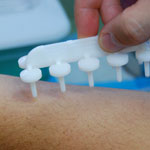 After taking your complete history and performing a focused physical exam, allergy testing may be ordered to determine what kind of substances could be your specific triggers. Tests can be done for common allergens such as plant pollens, molds, dust mites, animal dander, insect stings and various foods such as peanuts, eggs, wheat, shellfish and milk. There is no age limit for allergy testing and we offer you a choice between skin testing and blood testing (after explaining the advantages and disadvantages to each method). No matter what type of allergy test is used, we are experts at selecting which allergens should be tested, reviewing the results and helping you find the right treatment for relief.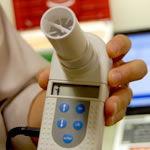 If you have symptoms of difficulty breathing, whether at rest or with exercise, a breathing test may be ordered to gauge how well your lungs are working. The test is performed in the office and measures how much air you can blow out forcefully after taking a deep breath. It can also detect if you have signs of airway obstruction or restriction that is often due to lung inflammation or tissue damage.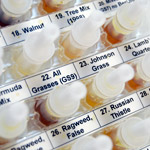 This test may be ordered to determine if you have an allergic contact allergy to substances that cause skin rashes and inflammation commonly known as dermatitis. The substances that cause this reaction can be ingredients in your makeup, aftershave, shampoo, jewelry (metals), medication, and clothing. You may also find these substances at work in your cleaning supplies, paper, ink, medicines, disinfectants, construction materials and rubber latex products.
Some allergy triggers are simply impossible to control or avoid. Allergy shot therapy, or immunotherapy, has been used successfully by allergists to treat allergies for almost a century. Immunotherapy involves a series of injections given regularly over an extended period of time. The first shots contain very tiny amounts of the substances to which you are allergic, and with increasing dosages over time, your body adjusts and becomes less sensitive to your allergy triggers. This process is called desensitization. Immunotherapy is the only available treatment that can modify the natural course of the allergic disease because, unlike medications that treats symptoms, it directly treats the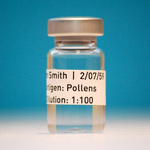 immune system, the source of all allergic reactions. This usually means that a regular course of injections may result in long-term benefits that extend well beyond the completion of the regimen. Although allergy shot therapy may not be possible for everyone with allergies, it does offer many the chance to eventually reduce the amount of allergy medication they take, and even discontinue it altogether.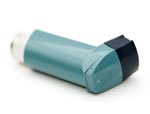 Asthma is a serious, and sometimes deadly, condition. Proactive management of the condition is essential and we believe that good asthma care takes time and involves proper education. Because asthma is a chronic condition, similar to high blood pressure and diabetes, regular visits are the best way to monitor how well your asthma is being controlled. As a patient, you have access to tools that help you with your individual needs such as lung function testing, asthma action plans and the use of a peak flow meter. We know by working together we can help you control your asthma instead of allowing your asthma to control you.
Back to Top


Because we focus solely on providing patients with the best care available, we do not conduct any clinical trials or studies in our office. If, however, you are looking to participate in a clinical trial, we would be happy to refer you to a research center in your area.